Vanilla Bean Cupcakes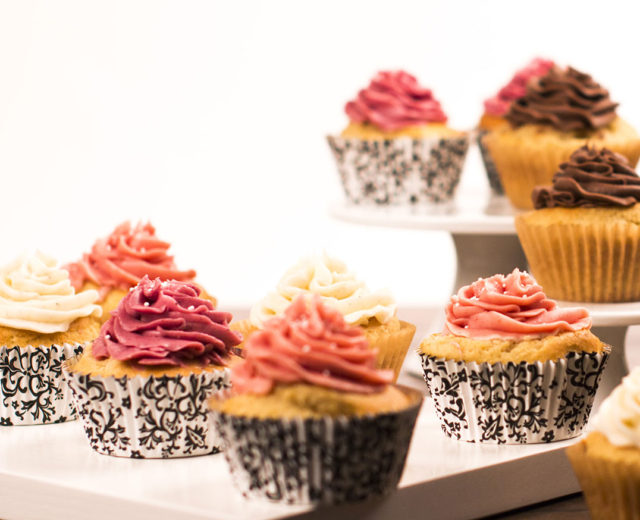 I think we could all agree that cupcakes are a classic favourite, and it's something that the gluten-free population often misses out on. That's why Chef Hamid and I carefully created a version that brings back the wonderful taste and texture of your old favourites, sans gluten.
Vanilla Bean Cupcakes
2017-06-26 10:08:24
1

Bag Nextjen Gluten-Free Artisan Vanilla Bean Cake Mix

1 1/4 cup

Milk of your choice

4

Eggs

2/3 cup

Vegetable oil
1 cup

Butter, room temperature

3-4 cups

Powdered sugar

1 tsp

Vanilla extract or vanilla powder

5 tbsp

Powdered freeze dried berries (I use strawberries, raspberries, or blueberries)

Pinch salt, if using unsalted butter
Add ingredients to shopping list
If you don't have Buy Me a Pie! app installed you'll see the list with ingredients right after downloading it
Preheat oven to 325 F. Whisk eggs  in a mixer until double in size, about 4-5 , minutes.
In a separate bowl, mix together cake mix, milk, and oil until smooth.
Combine dry mixture with eggs by folding gently, until just combined, with a spatula.
Pour batter into a cupcake pan fitted with cupcake liners.
Bake until the tops are light golden and a toothpick inserted in the centre comes out clean, about 10-15 minutes.
In a stand mixer or with a hand mixer, whip the butter for approximately 3 minutes.
Sift in powdered sugar 1 cup at a time, beating well after each addition until desired consistency is reached.
Beat in vanilla. Sift in the powdered freeze dried berries and continue whipping frosting for about 2 minutes, scraping down the sides occasionally.
Frost cupcakes with a piping bag fitted with a piping tip (I love the classic # wilton tip) and top with your desired sprinkles or garnish.
Print
Nextjen Gluten-Free https://nextjen.ca/